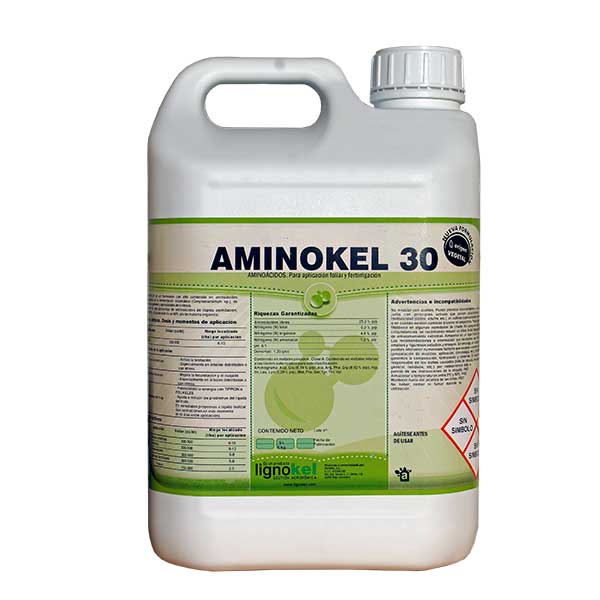 AMINOKEL 30
AMINOKEL-30 Is an organic bionutrient with a high content of amino acids from enzymatic fermentation, vegetable proteins and synthetic amino acids, for use in critical vegetative phases or after a period of stress. Its high amino acid content makes it an ideal product for increasing plant physiological activity.
Guaranteed Content
Free amino acids
30,0% p/v
Total nitrogen (N)
7,2% p/v
Ammoniacal nitrogen (N)
1,4% p/v
Nitrógeno (N) Orgánico
5,8
Carbono Orgánico Total
23,2% p/v
Materia Orgánica Total
40,0% p/v
Application and dose
LEAF APPLICATION
Citruses, fruit trees, olives and grapes: 200-300 cc/hl.
Horticulturals: 150-250 cc/hl.
Ornamentals: 100-150 cc/hl.
Lawns and golf courses: 2 l/ha.
Remedy for temperature stress  

ROOT APPLICATION
Olives, citruses, fruit trees and grapes: 20-40 l/ha, distributed in applications of 2-5 l/ha.
Bananas and tropicals: 40-80 l/ha, distributed into applications of 6-8 l/ha (tropicals) or 6-12 l/ha (bananas).
Strawberry: 1 l/ha per application, every 8 days under conditions of stress.
Horticulturals and ornamentals: 20-40 l/ha at the rate of 3-6 l/ha and application.
Lawns and golf courses: 10-20 l/ha distributed over the whole active cycle, in 4-6 applications.