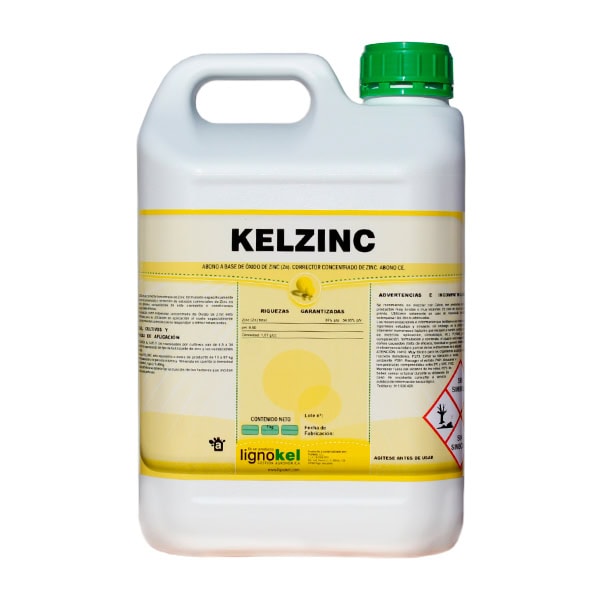 KELZINC
KELZINC is a concentrated corrector of zinc formulated specifically to prevent and correct zinc deficiency states in crops which are particularly demanding this element, or when there are especially difficult conditions for assimilation.
Its formulation as a concentrated suspension of zinc oxide has been developed for application to the soil, especially with deficiencies which do not respond to other treatments.
EXAMPLE OF RESULTS OF APPLICATION OF FLORAZINC ON HASS AVOCADOS
40 kg/ha of KELZINC applied in spot irrigation during the months of June and July 2012, in 3 batches of 13 kg, allowed the zinc levels to be increased.
Guaranteed Content
Zinc (Zn) water soluble, from zinc oxid
55,0% p/v
Application and dose
The following are considered crops with high zinc needs:
Woody: avocado, cherry, citruses, apple, peach, pear, vine and olive.
Herbaceous or industrial crops: cotton, rice, coffee, sunflower, flax, corn, potato, sugar beet and sorghum.
Horticulturals: bean, lettuce, cucumber and tomato.
Small fruits: raspberry.

ROOT APPLICATION
The needs of crops range from 4.5 to 34 kg/ha of Zn, depending on kind of zinc fertiliser and the soil conditions. Applying KELZINC, this would be equivalent to a product dose of 13 to 97 kg/ha approximately, or 8-62 l/ha. The definitive dose should be determined by the factors acting in each particular case.