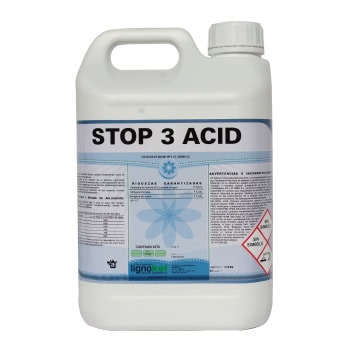 STOP 3 ACID
STOP 3 ACID is a liquid supplement of nitrogen and phosphorus enhanced with coadjuvants. It offers the following functionality:
pH regulator: allows the pH to be reduced in treatment mixes, preventing the alkaline hydrolysis of the active substances.
Antifoam agent: averts the formation of foam while preparing the mix, facilitating its preparation, especially when different products are to be mixed.
Synergy action of active substances.
Guaranteed Content
Phosphorus pentoxide (P2O5) water soluble
17,7% p/v
Total nitrogen (N)
4,7% p/v
Ureic nitrogen (N)
4,7% p/v
Application and dose
Start the treatment by adding STOP 3 ACID to the water tank, while keeping the stirrer moving. Afterwards, add the phytosanitary products and/or fertilisers.