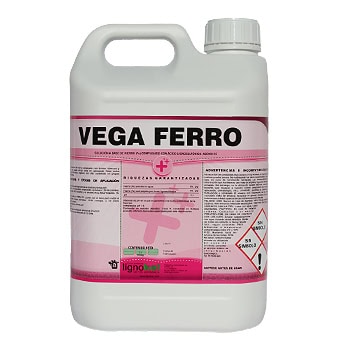 VEGA FERRO
VEGA FERRO is a deficiency corrector of iron complexed by humic acids and lignosulphonic acids . It is an organic formulation with a high content in carboxyl groups and phenols, which act on the soil to improve its physico-chemical properties when applied via irrigation.
Guaranteed Content
Iron (Fe) water soluble
7,9% p/v
Iron (Fe) complexed by lignosulphonic acid
7,9% p/v
Application and dose
ROOT APPLICATION
Citruses and fruit trees: young trees 10-25 cc/tree, starting to produce 25-50 cc/tree, in full production 50-75 cc/tree, and in highly developed trees 75-200 cc/tree.
Field and trellis grapes: recently planted 5-10 g/plant, and in full production 20-40 cc/plant.
Strawberry: 10-20 l/ha.
Ornamentals: water once per week with a solution of 0.5-2 cc/l.

LEAF APPLICATION
General: 200-300 cc/hl during plant development, in the applications necessary.
Grapes: 1.5-2 l/ha.